For many years getting dung beetles out onto farms has been an important aspect of the work of Bernard and Loene Doube of Dung Beetle Solutions International (DBSI). This spring, as part of the DBEE project, producers have been setting up some unique high-care dung beetle 'Farmer Nurseries'. This way of releasing beetles on farm will be one of the major DBEE legacies involving volunteer farmers managing their own 'starter' dung beetle colonies.
Bernard and Loene have developed unique flat packs that were packed up in Adelaide and dispatched to pilot sites in WA, SA, Vic, Tas and NSW. On farm, the nurseries were put together and placed on the ground in a fenced off area. Beetles were added to the cages and 'fed' with dung. During spring 2019, 25 farmer nurseries were established, 20 inoculated with the French strain of Onthophagus vacca and 5 with Bubas bubalus.
These sites are part of a research trial to find out where in southern Australia these beetles can successfully establish and breed. Volunteer producers such as Sally Kirby from Molong, NSW have been supplying the nurseries with fresh dung weekly. Sally is hoping that 'rearing the beetles on farm gives you a better chance of beetles becoming properly established'. After releasing the beetles in mid-September, in late November Sally dug up one of two soil cores used to determine the stage of development of the next generation of beetles. She was excited to find 16 dung beetle larvae. Sally said that 'it wasn't breaking any records but with only 372 mm of rain for 2019 in a 700 mm annual rainfall area it was a success to find something was happening'.
Each of the pilot O. vacca release sites comprises field cages, soil cores inoculated with dung and beetles, and a large dung beetle arena. Each site will be regularly monitored to assess feeding and breeding. As the next generation of beetles emerge in the cages, they will be counted to determine the rate at which their numbers are increasing.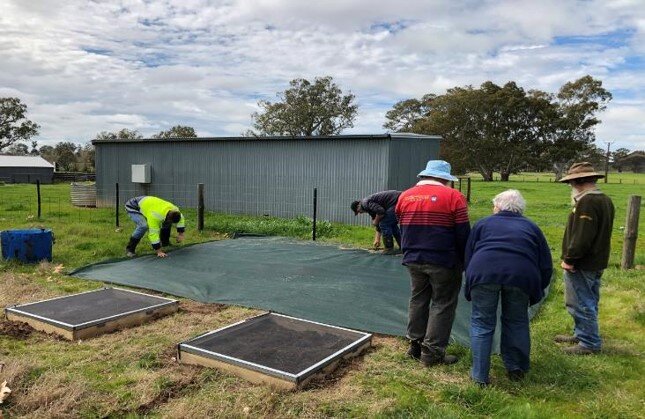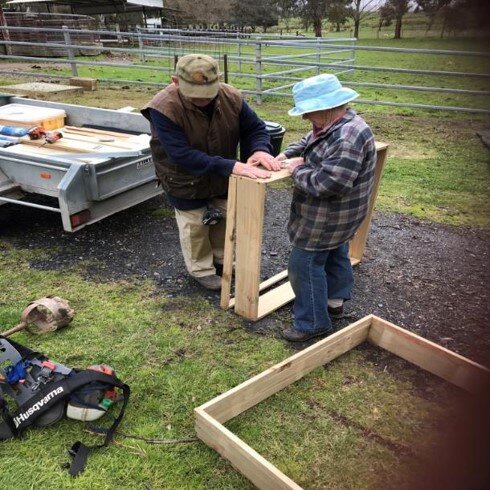 Bernard Doube has released a large number of dung beetles over his career and has 'high hopes for Farmer Nurseries as a cheap and effective way of establishing beetles in the face of serious competition from summer-active species'. The nurseries and the arena also protect the beetles from predators (foxes, crows, chooks etc.) and provide a benign environment for the first breeding season, while preventing them from dispersing so they can easily pair up next season.
As part of the DBEE project over the next three years, nurseries such as these will be used to distribute Onthophagus vacca, Bubas bubalus and other dung beetle species to over 100 new, suitable sites across southern Australia. Each nursery will be set up with site-specific dung beetle management recommendations. If the beetles breed successfully, further local area releases of the excess beetles will be coordinated through local farming systems or Landcare groups.
If successful, this beetle dispersal program will be one of the major DBEE legacies, in which farmers and groups of volunteers learn to manage their own 'starter' beetle colonies.