Dung beetles have demonstrated a remarkable ability to withstand the effects of bushfire as they bounce back in terms of both diversity and abundance after the devastating fires that scorched Australia during the 2019/2020 summer (see Figure 1a-d). 
| | |
| --- | --- |
| a) A site near Cobargo in the Bega Valley, February 2020 (location 4, Figure 2).  One month after the fires were extinguished pasture regrowth is apparent as fences are repaired and stock are reintroduced. | b) A site near Cobargo in the Bega Valley, February 2020 (location 9, Figure 2).  Despite the pasture being entirely burned a month earlier, 30 dung beetles were recovered at this location during a 4-hour trapping event. |
| c) Descending toward Yowrie through Wadbilliga National Park, February 2021.  One year later, the impacts of the fires are evident here, while the pastures in the valley below have recovered and have been restocked. | d) Yowrie in the Bega Valley, February 2021 (near location 26, Figure 2).  The area was entirely burned out in January 2020 with devastating stock and property losses. The pastures now support an abundance and diversity of dung beetles similar to nearby areas unaffected by the fires. |
Figure 1 a-d:  Images from the monitoring region in the Bega Valley from February 2020 to February 2021.


Over the past year, researchers from the Dung Beetle Ecosystem Engineers program have been monitoring beetle activity in regions impacted by the 2019/2020 bushfires. The data gathered from repeated monitoring events at locations in East Gippsland (Victoria), the Adelaide Hills (South Australia), and the Bega Valley (New South Wales) has conclusively shown us that dung beetle populations can rapidly re-establish after intense fires.
In the Bega Valley, areas that were both unaffected by fire to those severely impacted were assessed (Figure 2). The extent of the bushfire damage was so great that beetle monitoring was discontinued in all directions for over 20 km. We quickly recognised that if beetle populations were adversely affected by the fires then large-scale redistribution efforts would be required to assist in their recovery.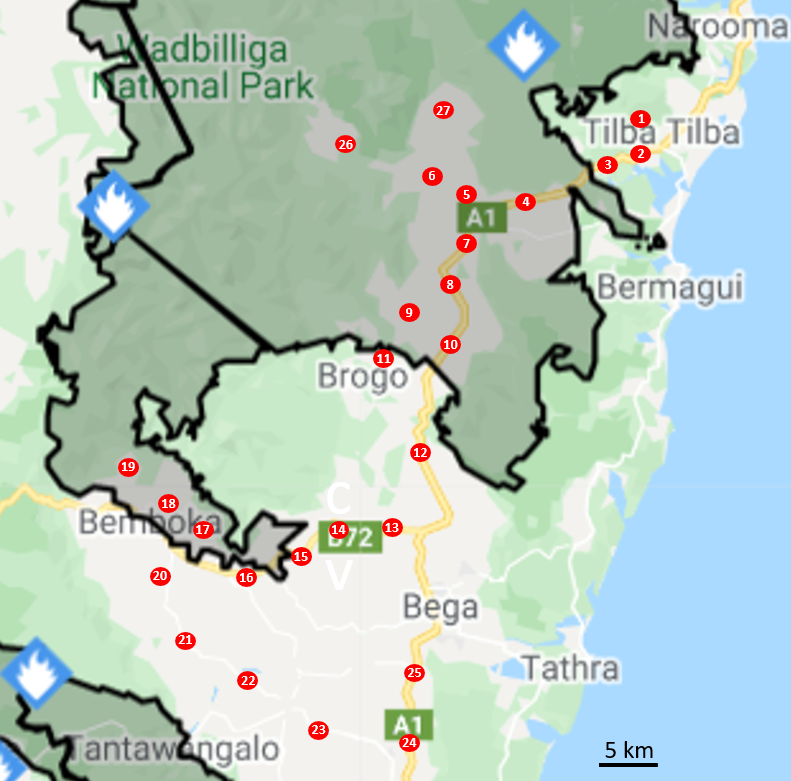 Fortunately, this has not been the case.
While monitoring events in the months immediately following the fires indicated that beetle abundance was generally lower in affected areas, the beetle diversity was similar to those areas that were not fire impacted. In February 2020 we collected 414 dung beetles of five species in the Bega Valley. Fire impacted sites yielded an average of 12 beetles/trap while non-impacted sites had an average of 20 beetles/trap. Fast forward to February 2021, and in the same sites we collected 4227 dung beetles of the same five species. At this time the fire-impacted sites showed an average of 164 beetles/trap and non-impacted sites a similar average of 151 beetles/trap.
We believe that the paracoprid (tunnelling) dung beetles are afforded significant protection in burning pastures by the fresh dung surroundings and the fact that many of the beetles could retreat down the tunnels they previously excavated.  However, the greatest risk to post-fire survival is associated with pasture and stock losses, resulting in beetle starvation.  Luckily, widespread and significant rainfalls in February 2020-2021 have resulted in lush pasture growth, while restocking allowed for dung production, culminating in a welcome outcome for producers.