In January, thousands of dung beetles raised in intensive mass-rearing programs at the CSIRO and Charles Sturt University were released in their new Australian home.
These beetles originated from the imported Moroccan strain of Onthophagus vacca and it is hoped that they will establish in climatically suitable regions across southern Australia. When these beetles emerge from their winter slumber in spring, they will set about feeding and breeding (F0, Fig 1), which on completion will bring their life cycle to an end. However, this activity results in a new generation of beetles (F1) that emerge in the summer months and continue to degrade dung pats with voracious feeding, shredding and tunnelling before they wait out the cooler months in a dormant state belowground (Fig. 1). If O. vacca successfully establishes in southern Australia, it will assist producers with dung breakdown and burial throughout spring and summer, a period when some regions experience a seasonal gap in beetle activity.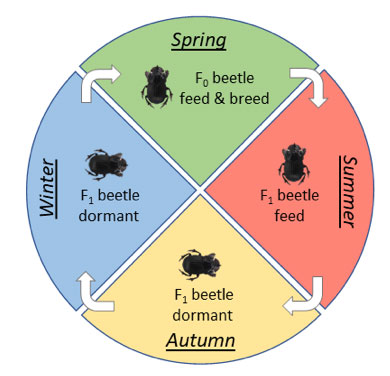 With this objective in mind, a property located in southern NSW was identified as a suitable release site.  Dung beetle diversity in this region is high, with multiple species represented, indicating that the location is suitable for diverse beetle populations. This year's mild summer resulted in abundant pasture, supporting cattle rotationally grazed on the property year-round. Importantly, only newly introduced cattle are drenched on arrival, before being placed in quarantine on a separate part of the property some distance from the new O. vacca release site. This ensures a reliable supply of high-quality cattle dung, without pesticides that might interfere with their activity (Fig. 2). 
A total of approximately 2300 beetles, reared in CSIRO and Charles Sturt University facilities, were released at two locations on the property in autumn 2021. Each site was prepared by removing pasture to expose bare soil, depositing a dung pat that did not contain any live beetles, and introducing the O. vacca directly to the pat (Fig. 3a-b).  Onthophagus vacca are a day active beetle, so release was made in the late afternoon to encourage beetles to remain where they were deposited. The strategy had the desired effect: we found many beetles busily feeding in dung pats at the release location the following day. 
We will return to the area in early spring and monitor the release site to determine if the beetles successfully survived the upcoming winter.