Meet the beetle: Bubas bubalus
The 'spring gap' in dung beetle activity in southern Australia has been widely recognised as problematic, with current species predominantly active in winter, autumn or summer. One species that could fill this gap is Bubas bubalus, which is proven to be active throughout spring. In the early 1990s an unsuccessful attempt was made to establish this species in Australia, and a second attempt was initiated in 2012. This species was selected for the DBEE project because of its potential for wide distribution in southern Australia and its seasonal activity.
Bubas bubalus is similar in appearance to its relative Bubas bison, an introduced species that is already well established in Australia. Bubas bison is a winter-active beetle and was first released in 1983 in Australia at Dardanup, Western Australia. Since then, B. bison has been successfully distributed to South Australia, Victoria, southern New South Wales, Tasmania and the Australia Capital Territory. Once established, B. bubalus is expected to have a similar distribution to B. bison's (Fig. 1) and could be one of the main species responsible for the burial of fresh cattle dung in spring. Competition between these relatives is unlikely to affect either species due to their differing seasonal activity.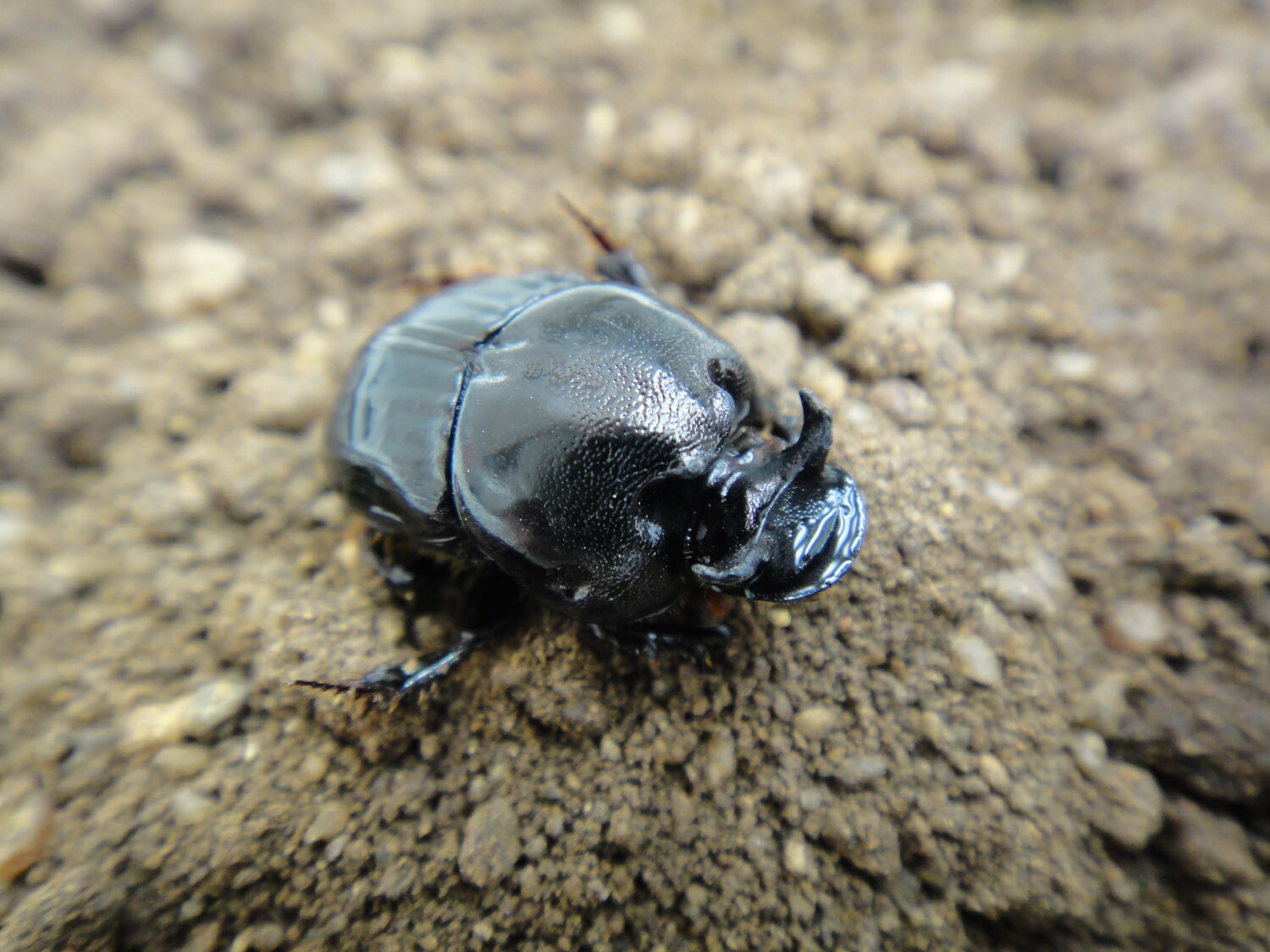 HISTORY
CSIRO first imported adult B. bubalus from southern Europe, where the Mediterranean climate is similar to our own, and introduced them into Australian quarantine in 1991. Breeding was unsuccessful and no beetles were released into the field. Beetles were again imported from 2012 to 2014, with significant success, and were released in field locations in southern NSW, southern Western Australia and south-eastern South Australia in 2014. To date, no recoveries have been made in the field, resulting in the species being classified as 'not established'. More recently, successful breeding has occurred in outdoor rearing enclosures in Canberra and at Strathalbyn in South Australia, where it's estimated there are several thousand individuals ready to emerge this spring.
DESCRIPTION
Bubas bubalus is large for a dung beetle at 12-22 millimetres and is a night-flying species with a glossy black colour. The large 'major' males have double-peaked curved horns on either side of the head and two peaked projections on the front of the body segment, just behind the head. Smaller, 'minor' males are similar but the features are less distinct. The leading edge of the head is curved (Fig. 2). Females have a distinct ridge, a small rounded projection on the head between the eyes and a slightly curved but shallow two-peaked ridge behind the head (Fig. 2). The leading edge of the head is bluntly pointed (Fig. 2).
BIOLOGY
Bubas bubalus generally has one generation per year, with females constructing the majority of the nest; it's thought that the males contribute by supplying dung and guarding the tunnels. Dung is collected from the dung pad and dragged into tunnels extending as deep as 30 centimetres. The dung is formed into 10 to 15-cm long sausage-shaped brood masses with an egg laid at each end (Fig. 2). Under laboratory conditions, on average females lay up to 20 eggs in a lifetime; however, in nature this is thought to increase to up to 60 eggs per female. Beetle densities can be high in their native range which results in rapid dung dispersal.
In Australia the exact lifecycle characteristics of Bubas bubalus are not yet known but, based on its European lifecycle, adult beetles are expected to emerge in late winter and early spring and begin egg laying after a period of intensive feeding. Egg laying continues through to early summer. They spend the summer months as larvae and pass the winter either as late-stage larvae or immature adults in their faecal shells, emerging as adults in spring (Fig. 2). CSIRO laboratory data shows that some individuals complete development quickly and emerge as adults before winter, while others can take up to two years to complete development. Some individuals have been shown to have a three-year lifecycle.
Reference: Wright, J., Gleeson, P. & Robinson F. (2015). Importation of 2 winter-spring active dung beetles for southern Australia: Final Report. Meat & Livestock Australia Limited, North Sydney. 73 pp.